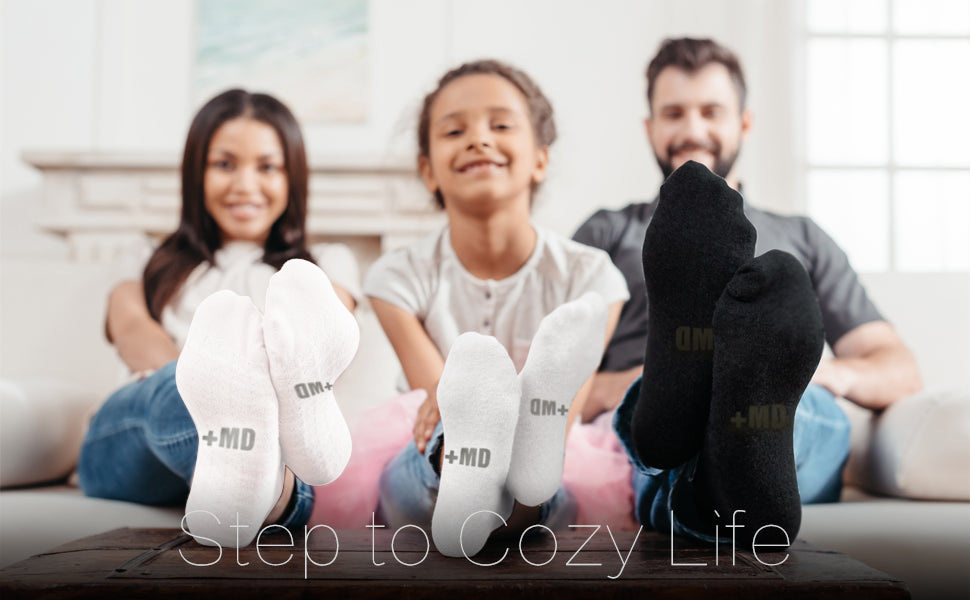 ENJOY NATURE
Material: 71% Bamboo,20% Nylon,7% Polyester,2% Spandex.

Soft-Stretch extra wide top not tight or binding at all. Slips on easy over ankles but do not decline,no more marks on legs from socks. Smooth no-irritating seam toe to enhance your everyday comfort and keep your toes and blood circulation in top shape. Cushioned sole brings super comfort touch for diabetic patients' sensitive feet.

Fabric made from bamboo is lightweight and extremely soft. Bamboo fabric is smooth and comfortable to touch feel,and easy to put them on and off. Especially suitable for the people who need continuously sit or stand,pregnant women and old people.

Moisture Wicking & Breathable: Bamboo is widely considered as a more renewable source than cotton. The average temperature of our bamboo socks is 2 degrees lower than cotton socks.Therefore bamboo socks are going to help keep your feet cool & dry,thereby helping you avoid infections. Ideal for sweaty feet and smelly feet.

Washing tips: Bamboo fiber will be much softer after the first wash. We suggest you wash them before you put them on. Compares the cotton socks, bamboo socks look smaller but they are super stretchable.The fabric is durable and sustains its softness even through multiple washes.
TECHNICAL FEATURES
| | | |
| --- | --- | --- |
| Beyond just our fabrics durability and resistance to holes, our socks also contain anti-shrinking properties so that they can be washed time and time again without losing their shape, size, or elasticity. | Bamboo fabrics are ultra soft and moisture wicking to protect from blister and infection, minimizing sock odor and helping to prevent conditions such as athlete's foot. In addition, they are non-allergenic, making them ideal for sensitive feet. | Our socks are not only breathable and absorbent to keep your feet cool and dry in the summer--they also carry insulating properties to keep your feet warm and cozy in the winter. We committed to designing this pair you can wear all year round. |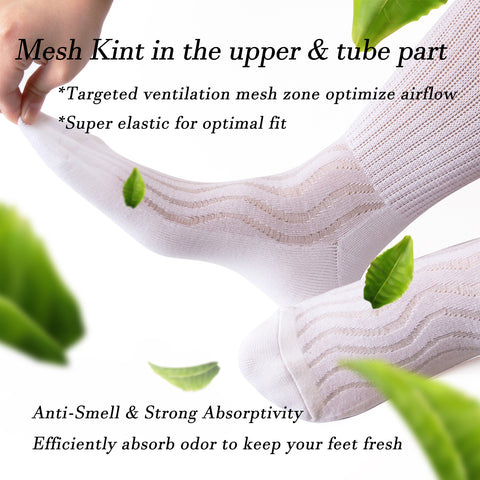 MD diabetic socks are specially designed socks to 1) reduce pressure in the lower leg and foot, 2) prevent blistering on the skin surfaces, and 3) minimize moisture accumulation. Ultimately, their jobs are to protect your feet and provide maximum comfort. These socks are typically non-elastic and seamless. The non-elastic feature is to prevent constriction due to common feet swelling tendencies. The seamless design is to minimize friction to the nerves and minimize neurological discomfort and pain. These socks simply fit well to prevent restrictions in the calf from a tight sock line that can limit circulation. When circulation is decreased, it becomes harder for the body to heal. Diabetes raises the blood sugar level, which can increase the risk of foot ulcers. MD diabetic socks are made to be unrestrictive of circulation.
Returns Policy
Our policy lasts 30 days. If 30 days have gone by since your purchase, unfortunately we can't offer you a refund or exchange!
Shipping
We offer fast, reliable shipping via USPS on orders shipped within the United States. ORDERS OVER $30 FOR FREE SHIPPING. Most order ship within 1-2 business days.
+MD Bamboo Moisture Wicking Crew Socks Non-Binding (2 Pairs)
SHIPPING POLICY
We offer fast, reliable shipping via USPS on orders shipped within the United States. 

The shipping fee is $2.50. 

ORDERS OVER $30 FOR FREE SHIPPING.
Most order ship within 1-2 business days.
Estimated transit times for USPS Ground:
*Free shipping via USPS available with the purchase OVER $30

. Free shipping offers are limited to orders within the United States.